Italian dressing is easy to make.
With a handful of pantry ingredients, you can make a delightfully zesty homemade Italian dressing. One that's free of unnecessary preservatives, food coloring, and other unhealthy additives.
And it's very versatile.
This vinaigrette dressing is great on your mixed greens. But wait, there's more…
Because it has the perfect blend of acid and fat, it's a great marinade for tenderizing chicken. Also, the aromatics and spices add a punch of flavor.
Enjoy it on a sandwich in lieu of mayonnaise. Or, serve it as a savory dipping sauce for cut veggies and artichokes.
Use it as a base dressing for pasta, rice, and potato salads. We love it on our Easy Italian Pasta Salad.
Try vinegar variations.
This recipe uses a good quality red wine vinegar. Because it's inexpensive and widely available, it's a terrific choice for this recipe.
You can substitute a quality sherry vinegar for a more complex flavor profile. Or, for a lighter variation try champagne vinegar.
Balsamic vinegar is a great choice for a sweeter dressing.
Be bold with extra ingredients.
For a cheesy dressing, add 1-2 tablespoons of fresh parmesan or romano. Or add 1 teaspoon of capers for extra tang.
1-2 tablespoons of chopped sun-dried tomatoes add a deep, sweet note.
Other Recipes You May Like
Simple Lemon Vinaigrette + Marinade
Carrot Ginger Dressing – Teppan Style
Tools for Crafting the Perfect Salad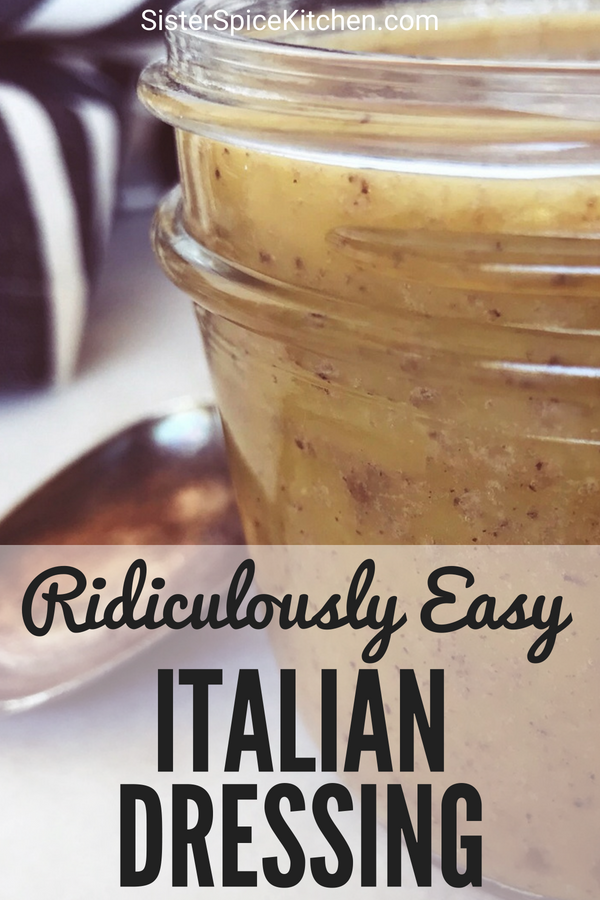 Combine red wine vinegar, Italian seasoning, sea salt, granulated garlic, onion powder, black pepper and olive oil in a blender. Begin blending on slow, increasing speed to medium-high. Alternatively, place ingredients in a mason jar and shake to combine. Or, whisk ingredients together in a bowl.

Store in the refrigerator for up to a week. Let come to room temperature prior to using.
Check ingredients and/or manufacturer's website to ensure spices are gluten free.
May we suggest? Try this vinaigrette on our Easy Italian Pasta Salad.
Recipe courtesy of www.sisterspicekitchen.com © 2018 Spice Brands, Inc. All rights reserved.