Who Says Carrot Recipes are Boring?
People who haven't enjoyed heirloom carrots. And those unfortunate enough to bite into an undercooked, or overcooked carrot.
Carrots are very affordable and widely available.
In an effort to cut corners, many purchase the baby-cut, pre-peeled and washed variety.
Sure, they're convenient. But with that convenience comes health concerns, including the fact that they are soaked in chlorine.
We'd rather wash, peel and cut our own, thank you.  
Behold Beautiful Carrots
The heirloom carrot is as delicious as it is beautiful. Coming in a variety of colors that reflect those of the autumn leaf spectrum… they're a sight to behold before you ever take a bite.
Using a quick cook blanching method retains their vibrant color and tender-crisp bite. If you like a softer carrot with more cook time, choose traditional orange carrots for the recipe. The vibrant color of heirloom carrots will change with a longer blanch time.
Blanching TIP: cool vegetables completely in an ice bath immediately after blanching. Otherwise, they will continue cooking, resulting in a mushy, discolored veggie.
Finishing the blanched carrots with a simple thyme butter, sea salt, and freshly ground pepper make for a simply elegant dish that nature intended.
You can blanch your carrots in advance and flash sautee them just before serving. Store your blanched carrots in the refrigerator for up to 3 days in an airtight container. Let them come to room temperature just before sauteeing them in the butter and serving.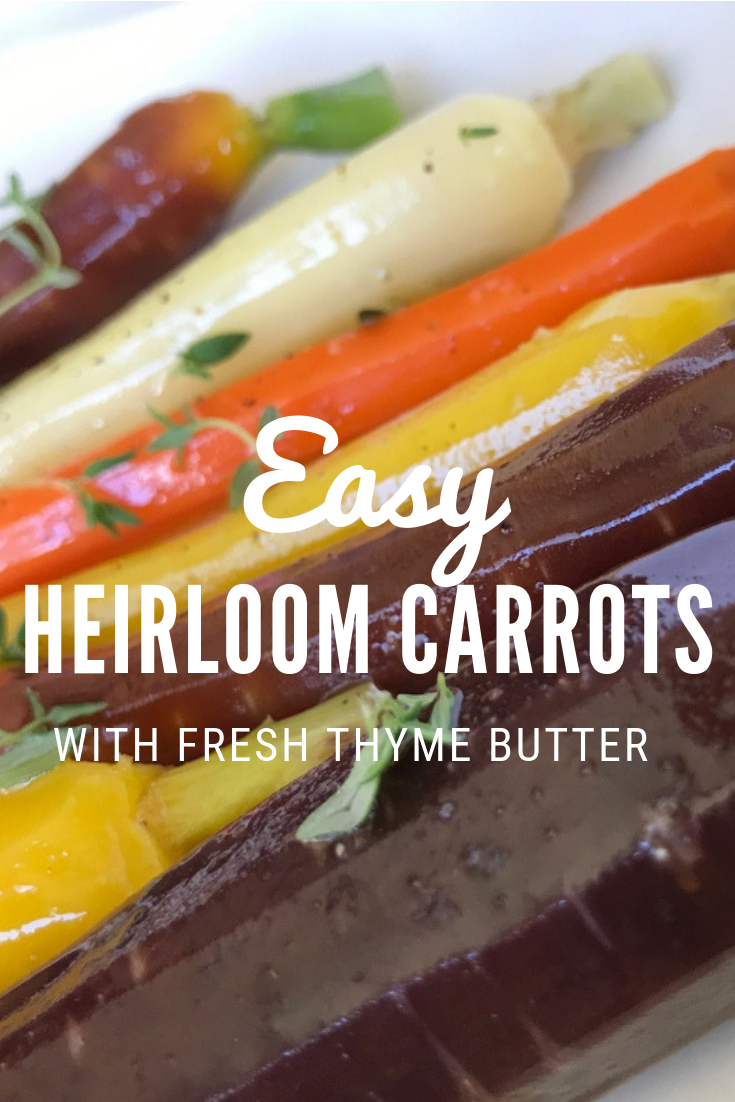 Peel carrots. Trim the excess green tops, leaving 1/4" of green on top.

Prepare an ice bath (a large bowl full of ice and water). Set aside.

Fill a deep, large skillet 1/2 full with water (deep enough so the carrots are fully submerged when placed in the skillet). Bring to a boil.

When the water reaches a boil, with tongs or a skimmer, carefully add a few carrots at a time to the skillet. Reduce heat to a gentle boil and cook for approximately 5-6 minutes. Cooking time can vary based on size of carrots.

With a pairing knife test for tenderness. The blade will slide in an out of carrot fairly easily.

Remove carrots from skillet with tongs or a skimmer. Immediately place in ice bath. Discard remaining water from skillet.

When completely cool, remove carrots to paper towels or a clean kitchen towel. Pat dry.

Over medium heat, melt butter in the same skillet, add carrots, salt, fresh ground pepper to taste. Heat for a few minutes until warmed through.

Plate and sprinkle with thyme. Serve immediately.
May we suggest? These carrots pair beautifully with our Whipped Cauliflower.
Recipe courtesy of www.sisterspicekitchen.com
©2017 Sister Spice. All rights reserved.