Our Chili Lime Butter Recipe is ridiculously easy to make.
And it adds a ton of flavor to vegetables, seafood, chicken, and meat.
Use it to liven up sautéed cauliflower rice. Brush it on shrimp before grilling. Reserve some and serve melted on the side.
Melt and drizzle it over cooked vegetables as a finishing sauce.
Use it softened, under the skin of a chicken before roasting. Dollop a pat on your favorite steak after searing.
Perk up your popcorn by tossing melted chili lime butter to popped corn.
We love it slathered over our Grilled Corn on the Cob.
This chili lime butter recipe uses a mild chili powder. If you like heat, choose a spicier version.
Store the compound butter in the refrigerator for up to 1 week. Freeze in individual servings for up to 6 months.
Other Recipes You May Like
Sugar-Free Hickory Barbecue Sauce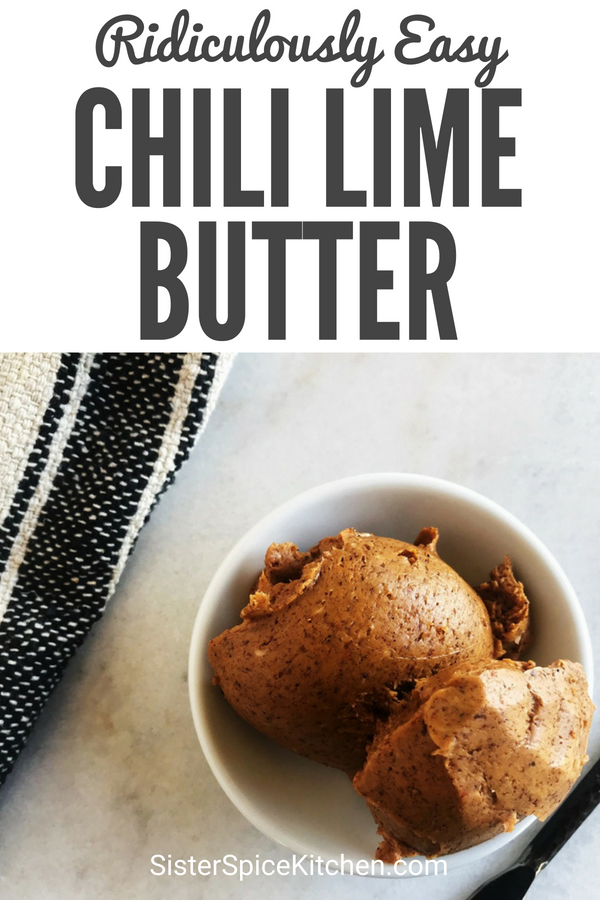 In a medium bowl, combine butter, chili powder, lime juice and sea salt.

Stir to combine. Serve immediately softened. Or use a spoon and place in scoops in a small serving dish. Refrigerate covered with plastic wrap until ready to use. Alternately can place softened butter in wax paper. Roll into a log and refrigerate. Cut into tablespoon size servings when well chilled and hardened.
Check ingredients and/or manufacturer's website to ensure spices are gluten free.
Store refrigerated for up to a week. Freeze for up to 6 months in a freezer safe container.
Recipe courtesy of www.sisterspicekitchen.com © 2018 Spice Brands, Inc. All rights reserved.