If you want to master the art of the perfect high-end steakhouse style filet mignon at home, look no further! The best way to cook steak: hands down, is in a cast iron skillet. We've spent years perfecting our technique so you don't have to.
The Case for Cast Iron
We love the grill. But if you want that caramelized, buttery crust you'll find at your favorite steakhouse, cast iron is the way… with a few more secrets.
Top steakhouses typically use high-powered broilers to achieve the perfect crusty exterior. All while maintaining a succulent and juicy center.
These broilers can reach temperatures of 1000 degrees or more. Home broilers don't come close.
A good grill will impart a lovely smoky note to the preparation. But you'll never achieve that sought-after crust without over-cooking the steak internally.
More Secrets
So you've busted your cast iron skillet out. Let's talk about the other key secrets to achieving a phenomenal result.
Choose the highest-quality meat you can access.
Top steakhouses feature aged, corn-fed, Prime Grade beef.
The juiciest, most tender, and flavorful, Prime Grade beef is without question a great choice.
That said, less than 2% of the retail beef supply is USDA Prime Grade. Yet, many mainline supermarkets are actually now carrying some cuts.
Prime Grade is also the most expensive. Expect to pay from $15.00- $22.00 per pound.
If choosing Prime Grade, always look for the USDA seal to ensure it is, indeed, Prime.
We have also had very nice results with center-cut, Choice Grade Angus.
Choice Grade Angus is much more widely available and is excellent quality.
Choice Grade is also more affordable.
What about Grass-Fed Beef?
Grass-fed beef is a very healthy choice.
Cuts tend to run leaner. Flavor profiles can change based on the source and "finishing" diet of the stock.
It's better with butter.
Don't even think about skipping the butter step when cooking your steak in the cast iron skillet.
No butter, no crust, Baby.
We like grass-fed Irish butter, like Kerrygold, because it's healthier, and has a higher fat content.
This eliminates a prep step in that there are almost no milk solids to remove when melting the butter.
Milk solids burn on a hot pan surface. If you do use regular butter, you will need to skim the white milk solids off the top after melting the butter.
We blend the butter with a touch of peanut oil to achieve the perfect crust.
Peanut oil has a very high smoke point and is widely used for perfectly crunchy french fries. Adding it to the melted or clarified butter also ensures that the butter will not burn.
But we don't stop there.
We plate our filets on warm plates with melted butter.
The filet mignon cut is known for its tenderness. Yet it has very little fat content.
Less fat = less flavor.
The melted/clarified butter adds a sweet, velvety note that will make your taste buds sing.
High, High Heat.
It's all about the sear.
Cast iron is an amazing surface due to its ability to evenly retain heat. That's why it's without question the best way to cook a steak.
For this recipe we get the skillet screaming hot before adding our butter/oil mixture and steaks.
After searing both sides, we reduce the heat and continue to cook on each side to ensure even cook-through.
Know Thy Doneness.
We like a medium-rare, warm red center.
The steaks will continue carryover cooking after you remove them from the pan. Allowing for temperature rise is important.
Check for doneness using an instant-read thermometer, inserted into the side of the steak, toward the center.
125 – 130 degrees Fahrenheit is a good marker for the perfect medium-rare steak.
For medium, 135 degrees.
For well done… Um, why would you want to do that?
Give it a rest.
Resist the temptation to go straight from the fridge to the stove.
Allow your steaks to come to room temperature before dropping them on the cast iron.
Your steaks will cook more evenly, and will not have that unsavory gray band around the interior edges.
But healthy self-constraint doesn't stop there.
Let your steaks sit for 5 minutes after removing them from the pan as well.
This will allow for the juices to redistribute. You'll be glad you waited when you bite into your juicy filet.
Rub a dub-dub.
Are these steaks good without a rub?
Absolutely. Using the same techniques without a rub will still result in a beautiful crust.
But they're even better with our Espresso Rub.
This smoky blend wakes up the flavor of the filet.
It also aids in achieving a deep, dark crust.
Serve with our mashed cauliflower and perfectly cooked asparagus for a complete steakhouse-style dinner alongside a nice glass of Paso Robles red wine.
A Word on Wine.
We love a full-bodied Syrah or Rhone-style blend with this recipe. The cast-iron cooking method and flavor profiles command an intense, bold wine.
One that will balance perfectly with the rub's espresso and pepper notes. And, compliment the richness of the butter notes.
Tools for Crafting the Perfect Steakhouse-Style Steak
Sides to Try with Your Steak
Melt in Your Mouth Mushrooms
Shortcut Roasted Potatoes
Steamed Spinach
Perfectly Cooked Broccoli
Other Recipes You May Like
Peppercorn Crusted Prime Rib with Red Wine Jus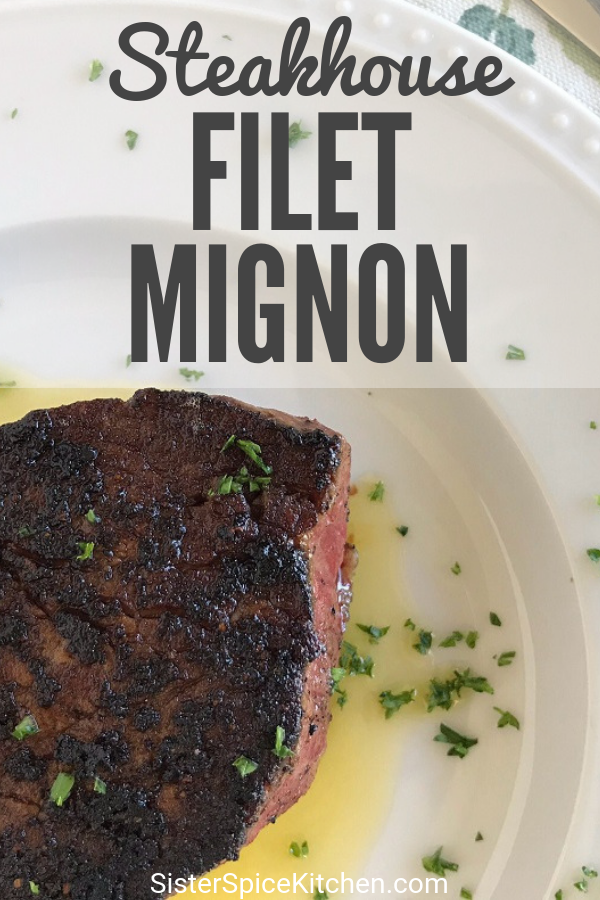 Now, for the recipe…
Allow steaks to rest at room temperature for 30-45 minutes prior to cooking. Meanwhile, in a small bowl, combine brown sugar, espresso powder, sea salt, black pepper, onion powder, garlic powder, paprika and chili powder. Set aside.

Measure butter for melting.

Melt butter in a small microwave-safe bowl in 20-second intervals, at 30 percent power. Measure 3 tablespoons of the melted butter and set aside for plating. This will be divided into two servings.

Measure 1 tablespoon melted butter and 1 teaspoon peanut oil for searing steaks.

Combine the butter and peanut oil in a small ramekin.

Pat the steaks dry on both sides with paper towels. Sprinkle the first side of steak with 1/2 to 3/4 teaspoon espresso rub. Press the seasoning into the meat.

Repeat with the rub on the second side of steak.

Heat a large cast-iron skillet over high heat for about 5 minutes, or until very hot and smoking.

In the preheated skillet, add the butter/oil mixture. With hot pads, tilt the pan to redistribute the fat over the bottom surface.

With tongs or a long fork, immediately place steaks in the skillet and sear for 2 minutes.

Flip steaks to the second side and sear for an additional 2 minutes.

Reduce heat to medium-low and cook for 2 minutes. Flip and repeat every two minutes until the temperature on an instant read thermometer registers 125-130 degrees for medium-rare. Remove from the skillet and allow to rest for 5 to 10 minutes.

Spoon half of remaining melted butter onto a plate. Repeat on the second plate.

Plate steaks on top of butter. Garnish with minced parsley and serve.
Check ingredients and/or manufacturer's website to ensure spices are gluten free.
Recipe courtesy of www.sisterspicekitchen.com
© 2018 Sister Spice. All rights reserved.